Welcome to Chojo Fujikan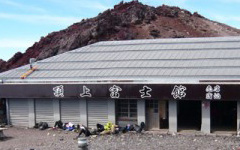 The opening period of Chojo Fujikan for 2023
Climbing Season is July 10(mon) -September 9(sat).
The open/close times may change subject
to weather and trail conditions.
Please check the latest information.

Fujikan is located at the top of Mt.Fuji on fujinomiya trail.
It will take 5 to 8hours from the Fujinomiya 5th Station.
You want to see the most beautiful and never forgetable sunrise
in japan.
Then Fujikan is the right place for you.

■Inn guidance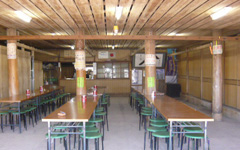 Restaurant <Hours>5a.m~3p.m (Last call 2:30p.m)
Food and drinks are available in our large cafeteria.
Menu:Noodles,Wonton Soup,Hot Milk Tea,Hot Coffee,and soon.
We don't sell hot water. but,We do sell water.
■Gift Shop <Hours>5a.m~3p.m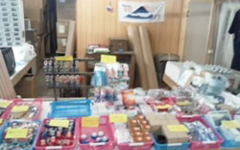 We have walking poles,raincoates,PET‐bottled drinks,and so on for sale.Our original items including maountaineering certificates,postcards,keychains and badges with the year of mountaineering are also available.These items CANNOT be puchased at any other places.
■You can see the most beautiful sunrise in front of our hut.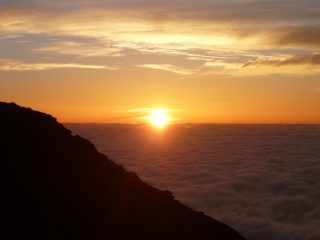 ①You can see the most beautiful sunrise in front of our hut.
②There are publictoilets next to our hut.
③It will take about 30 minutes to the top of Mt. Fuji ,
kengamine(3776m) from our hut.
④There is Sengen Shrine post office next to our hut.
■Stay
●Our hut is closed from 3p.m.-4p.m. for cleaning.
Although guests are asked to share a futon with others in some huts on busy days,
everyone will be provided with a futon in our hut.
<Check in>4p.m~6p.m
You must check in between 4pm and 6pm.
Our hut is gate will be closed at 7pm.
●Lights off・・about 7p.m
<Check out>about 4:30a.m.
Dinner: Original curry and rice, and Egg soup
Breakfast: Rice, Miso soup, Japanese pickles and Fish stew
★We do have blankets. So you don't need to bring your blanket.
You can check the status of your reservation on our website.
Manager's Blog is updated everyday, and you can check the weather and the conditions of the summit. (http://fujisanchou.com)
---

Make a reservation online, and get our original Mini Towel for free.
Rates
8000 yen per night (dinner and breakfast included)
7000 yen per night (dinner or breakfast included)
6000 yen per night (no meals)
(+2000yen on Friday,Saturday,national holidaythe ,day before a national holiday.)
adults and children will be charged the same amount.
(Cash only)
☆Please make a reservation for accommodation☆
Reservations should be made by Phone, FAX or Email.


 ←click here for Room Availability.
TEL・・・090-3301-3512(Manager's cell phone)
FAX・・・0544-26-0522
Email・・・fujikan@fujisanchou.com


Please write the email title as "summit Fujikan reservation" for spam prevention.
To make a reservation by FAX or Email, please include the following.
(1) The date
(2)Name(Name of representative)
(3)Number of guests
(4)Address
(5) Mobile phone number
(6)FAX number
(7) Route
(8) Email address
(9)Plan ①8000 yen per night (dinner and breakfast included) ②7000 yen per night (dinner or breakfast included) ③6000 yen per night (no meals)
(+2000yen on Friday,Saturday,national holidaythe ,day before a national holiday)

☆Please let us know if you do not receive a confirmation email or fax within 5days.
☆the reservation of E-mail is only foreigner.
(メール予約は、海外の方のみとさせていただきます)

…Chojo Fujikan…
TEL:0544-26―1519
FAX:0544-26-0522
Office:12-22 Miya-cho Fujinomiya-shi,Shizuoka Japan.
Web:http://fujisanchou.com
Capacity:150persons